Monthly Psychic Medium Fair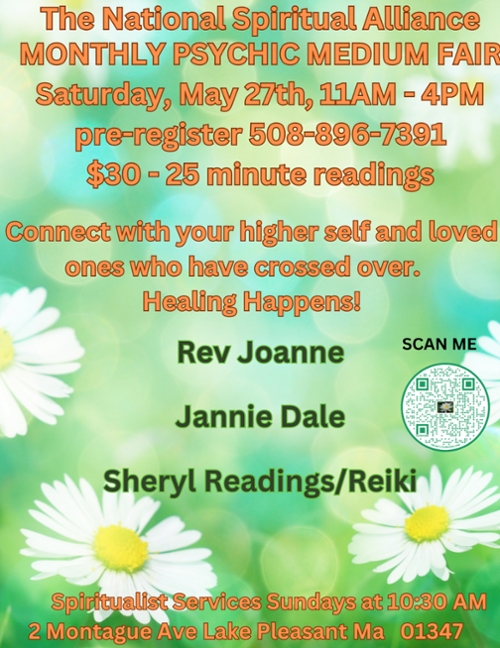 Saturday, May 27, 11:00 am until 4:00 pm
Repeats until Saturday, January 27, 2024, 11:00 am until 4:00 pm
The National Spiritual Alliance
$30 for 25 minute reading or Reiki appointment
Rev. Joanne
I've been reading Tarot and Psychic/Mediumship reading for the last few years. My mission as a Tarot reader and Psychic/Medium is to bring evidential, meaning, healing and clarity to your reading.
My readings offer guidance and spiritual insight into your life's situations. Offering a review of your pas-present-future. Our personal life circumstances are/can be created from the past, and based on what we focus on now can determine what our future will/might be. Nothing is set in stone.
To schedule a reading from Rev. Joanne please call 508-896-7391
Jannie Dale
Jannie is a psychic medium who attended her first séance as a preteen, and began reading Tarot cards in 1975. She studied psychic mediumship and hands-on healing at Fellowships of the Spirit in Lily Dale, NY, graduating in 1982. She also has had a private practice as an intuitive transformational coach since 1991.
To schedule a reading with Jannie Dale please call 508-896-7391
Sheryl
Sheryl Sadler-Twyon is a licentiate minister with TNSA. She has been a TNSA member since 2020 and serves on the Board of Directors. Sheryl has completed the Morris Pratt courses on Modern Spiritualism and has certificates in Spiritualism, Healing, and Mediumship. She is a TNSA certified Spiritual Healer, Medium, and Moderator. Sheryl leads weekly Development Circles at TNSA and actively participates in the monthly Psychic Medium Fairs. Sheryl is a life long learner and is also certified in Reiki 2 Advanced and is enrolled in the Master Level program. Sheryl is also certified in Regression (Soul Contact) Hypnosis.
To schedule a reading or Reiki appoint with Sheryl please call 508-896-7391
Posted to: General Events on 2023-01-12 19:50:23 (updated 2023-12-04 17:58:44).