Monthly Psychic Medium Fair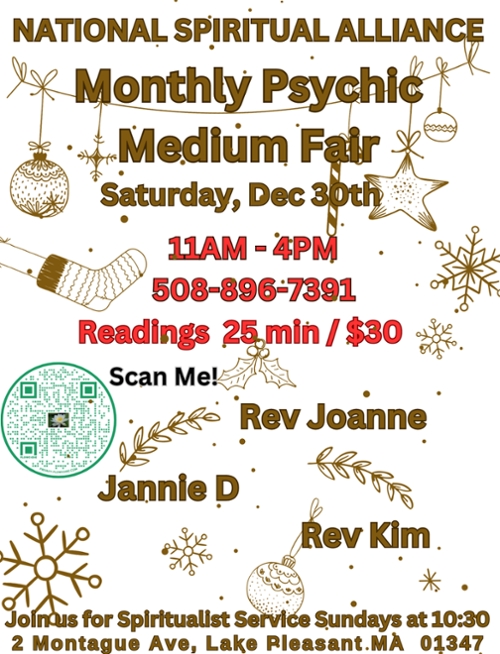 Saturday, December 30, 11:00 am until 4:00 pm
The National Spiritual Alliance
25 minute reading appointment for $30
Rev Joanne
I've been reading Tarot and Psychic/Mediumship reading for the last few years. My mission as a Tarot reader and Psychic/Medium is to bring evidential, meaning, healing and clarity to your reading.
My readings offer guidance and spiritual insight into your life's situations. Offering a review of your pas-present-future. Our personal life circumstances are/can be created from the past, and based on what we focus on now can determine what our future will/might be. Nothing is set in stone.
To schedule a reading please call: 508-896-7391

Jannie D.
Jannie is a work in progress. She is an eclectic mix of ceremonial fire keeper, couple's coach, intuitive transformational coach, holder of space. and a visual artist. She carries certifications in: mediumship, healing, neurolinguistic programming, literacy tutoring, mediation, and is an ordained minister through the American Marriage Ministry. She loves to play with words, fabric, harmonies and humans, in the pursuit of creating beauty and magic.
To schedule a reading please call: 508-896-7391
Rev. Kim is a certified Medium who has studied with Elaine Kuzmeskus and the New England School of Metaphysics for years. She has also studied with Tony Stockwell and attended the Arthur Findlay College in Stansted, UK. Rev. Kim is also a Reiki Practitioner. Kim is offering remote readings if you are unable to make it to the fair over FaceTime or Messanger.
To schedule a reading with Rev Kim call 508-896-7391
Posted to: General Events on 2023-01-12 19:50:24 (updated 2023-12-04 17:58:44).